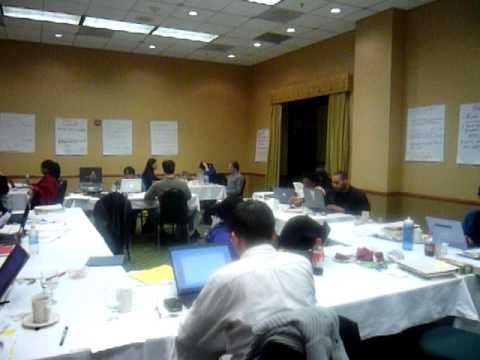 We cannot display this gallery
Some universities have a Dissertation House while others might refer to it as a Dissertation Boot camp, or a Dissertation Writing Retreat. Although, the structure might be somewhat different at each institution the overall goal of student success is the same. The main purpose for a dissertation writing house, retreat or boot camp is to help graduate students complete their degree.
Creating a Dissertation Boot camp requires more than finding a available room on campus where graduate students can work side by side.
If you need help setting up your dissertation, boot camp, retreat, or on-campus event contact Dr. Carter
While students' academic advisors are the primary mentors throughout the dissertation project, graduate students can benefit from others in the graduate community.
The Dissertation Writing Retreat activities focus on places where students typically have problems: managing their writing time, conceptualizing a topic, developing a pre-proposal, writing a literature review, writing a proposal, analyzing data, writing the last chapter, and editing. Also, the Writer's Retreat focuses on teaching the students to cultivate good writing habits that will help them successfully complete the dissertation. The students learn and develop writing techniques and receive direct feedback from the consultant to help them with editing as well as prepare for the final draft for publication.
Students leave with a sense of accomplishment, writing schedule, and plan to and meet their PhD completion objectives. Also, many of participants subsequently successfully defend their dissertation or reduce their overall time to degree. Following is a list of promising practices that help make this Writing Retreat a successful event.
Promising Practices:
1) Organizational Strategies for the Process: The students learned the various components of the PhD completion process, how to organize their research, time and effort, and how to prepare the thesis for publication.
2) Communication & Accountability: Students learn to be accountable to themselves as well as their committee. In addition, they learn to communicate more effectively with difficult-to-read faculty and committee;
3) Time management & Goal Setting: Students set manageable writing goals during the sessions. It is expected that each student will come away a workable writing schedule to finish the dissertation or proposal.
4) Productive Working Environment: The students are isolated from all distractions, which allow a concentrated time to focus on writing over the four-day period. The group provides support any synergy during the writing process to eliminate the self-isolation often writing a dissertation or long project.
5) Direct Feedback: The dissertation consultant gives direct feedback (one-on-one consultation) on the student's dissertation as well as overcoming the obstacles that hinder the students' progress in meeting the PhD Completion objectives.
6) Meeting Deadlines: Students learned the importance of setting deadlines to meet individual and committee objectives for Ph D. completion.
Stanford University Dissertation Writing Bootcamp